Monday, January 31, 2011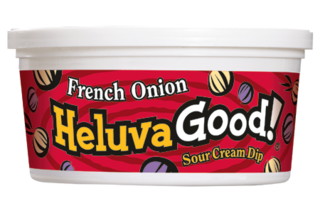 This product review all started a few months ago when I signed-up for the Heluva Good facebook promotion. I got my free product coupon in the mail a few short weeks after I signed-up. At first I didn't think I was going to be able to use the coupon because Pick N Save or Piggly Wiggly had it for sale. Close to Christmas time I was at Wal-Mart and had the coupon along. I was in need of dip for our Christmas get together. I was leery about buying a new product that I hadn't tried, but I was left with no choice. My normal brand of dip was out of stock. I ended up purchasing with my coupon the French Onion (which I wanted in my normal brand) version from Heluva Good.
I ended up not using it for our get together. I couldn't because I ate it before anyone ever came. The dip was burning a hole in my pocket and I had to try it. Once I did try it, I just couldn't stop eating it. Dip it with veggies (mushrooms, cherry tomatoes, cauliflower, or green peppers), pretzels or my favorite Jay's Potato chips! But I have to admit using it with the veggies was really good to. The dip is creamy and thick. It reminds me of the "homemade" dip that one makes with sour cream and a onion soup packet. What I love about the dip is that it really sticks to the item your eating. So you get a good coating, but not too much dip. What I didn't like was that the onion flavor was a bit mild for my taste. Also, its a bit pricy compared to what I normally spend on dip. I normally get double the size for the price.
The Heluva Good Sour Cream French Onion Dip has 60 calories. 45 of those calories are from fat. It also has 5 grams of total fat, 3 grams of saturated fat, 20 mg's of cholesterol, 170 mg's of sodium, 2 grams of total carbs, 0 grams of dietary fiber, 1 gram of sugars and 1 gram of protein.
I give it 4 out of 5 stars. I will buy this again, but only as a special treat. I do like the flavor and texture, but would like to have more onion flavoring. Plus more dip for my money.
Website:
http://www.heluvagood.com